I am stealing this idea from my forum-friend Blair's blog. I comes from yet another blog (can you tell what I mostly read now?)- Can I name one thousand things, gifts, I am thankful for?
Yes, I can. And I will.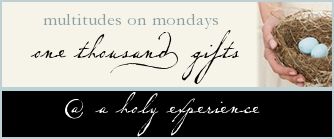 Normally, I would post new photos with this, but my camera is broken and we are waiting to get a new one. I have my old digital camera, and I haven't up loaded the new photos yet. I've been busy trying to get my Zune to work so I can listen to music during my dental work next week.
ANYWAY-
1. Adam- my husband, my love, the bestest father to our Herd of four small children- and the giant pesky dog. We'll be married nine! years this spring and want many, many more together. He cooks on the weekends, takes all the children Saturday morning so I can shower in peace and work out. He keeps me on track with all our goals and sings "Only the Good Die Young" every time we go on a road trip together. He buys me Spotted Cow Beer in WI and laughs about it. He's, simply, a good man.
2. Joseph- my big boy, my first born, my Type-A pleaser who has mastered all the fenceing games on the Wii. He'll grow up but always be my baby boy with his Puff, the Magic Night-Night Dragon.
3. Camille- Our Pretty Pink Princess and the only girl. She's strong willed, loving, caring and will take the world by storm, while wearing pink. She is in TKD and look out world- the Princess can defend herself!
4. Georgie- Pordgie Puddin Pie, our Giant Monster Preemie who has given us so many gifts. He taught us the good things come early in large packages, but we still need to be patient and wait while they bloom. Late blooming buds are often the brightest.
5. Cole- Our sweet little baby bear who keeps us on our toes by eating paper, trying to stand and carrying his socks in his mouth.He has the softest, best baby skin and a silly sense of humor. His life is certainly a gift to our lives.
6. The giant pain in the arse dog- yeah, yeah, yeah. But the kids and husband love him... ;)